Thanks to long-term efforts at developing advanced manufacturing technologies, domestic manufacturers of metal-forming machines have been making notable inroads into major world markets, such as Japan, the U.S., Canada, and European nations. But it is on mainland China that many in the sector are pinning their greatest hopes.

The industry continued its outward-bound growth last year, developing innovative products at competitive prices to keep ahead of competitors in developing economies.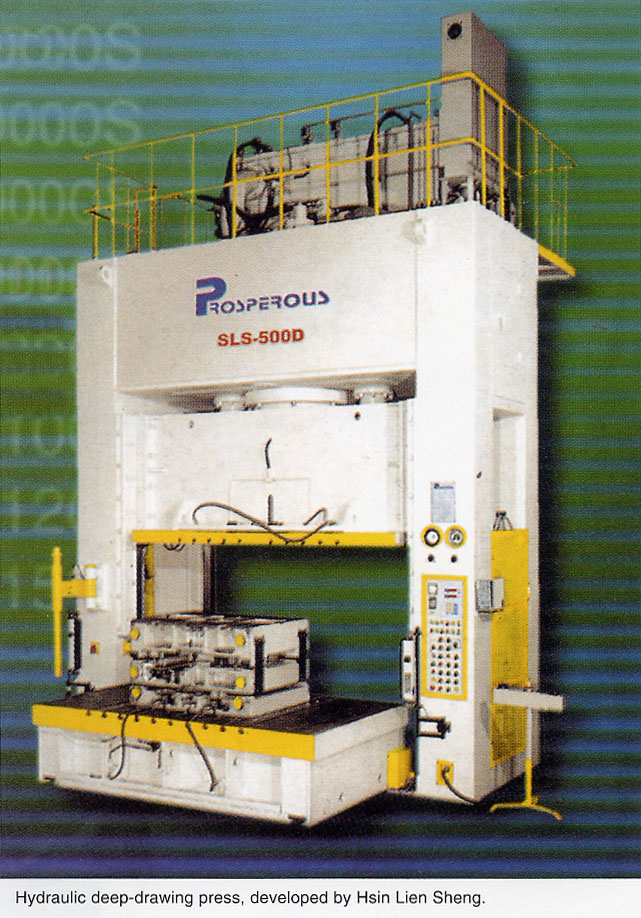 Among the sophisticated new items rolling off local production lines are double-crank link-motion pressing machines, which are expected to become the mainstay of the global pressing-machinery industry in the next few years.

According to statistics compiled by the Taiwan Association of Machinery Industry, Taiwan exported US$404 million worth of metal-forming machine tools in the first 11 months of last year, up 11.4 % from US$355 million registered in the same period of the previous year. TAMI believes domestic metal-forming machine sector will see higher growth in sales this year because of the recovery of the world economy and the increased demand of mainland China's fast-growing automobile-parts industry.

International Quality Guaranteed

When it comes to product development, one local trendsetter is Shieh Yih Machinery Industry Co., winner of the Symbol of Excellence prize awarded by the Ministry of Economic Affairs (MOEA).

Shieh Yih bagged the MOEA award for its link-driven high-speed straight-side press, which deliver the power and precision for use on high-end metal products used in 3C (consumer electronics, computer and communications) industries.

ISO9001 in the Bag

Hsin Lien Sheng Machinery Co. is an ISO9001-certified manufacturer of various types of pressing machines, including double-crank presses, high-precision power presses, 180-degree reversing-type spotting presses, hemming presses, hydraulic deep-drawing presses, high-speed hot/cold-forging hydraulic presses, and straight-side eccentric crank-less presses.

The company says its high-quality products are widely adopted by internationally renowned manufacturers of automobiles, motorcycles, bicycles, kitchenware, furniture, electric machinery, home appliances, hand tools, and information-technology hardware. Its customer list includes P.T Maspion of Indonesia, Yontrakit Industry Co., Mitsubishi Heavy Industries, and Stainless Steel Co. of Thailand, Shanxi Automobile of mainland China, Toyota Tsusho Corp. of Japan, and Ni Hsin Corp. and Malaysia Electric of Malaysia.

In Taiwan, Hsin Lien Sheng is a major equipment supplier to many large-scale operators, including almost all domestic automobile and motorcycle makers, home-appliance brands, steel producers, and electric-machinery conglomerates.

Hsin Lien Sheng was founded in 1998 by a management team from the well-known local machinery maker Ming Chang Co. Thanks to the expertise of this experienced team, the company is able to provides both standard-specification machinery and custom-designed models to meet the different needs of its global customers.

The company claims that its customer base is rapidly expanding as its product line and reputation for quality and reasonable prices grows. The firm earned its ISO 9001 certificate in early 2000, attesting to its capability in management, manufacturing, and R&D. The company currently runs a plant in central Taiwan, utilizing the best-quality parts and components from Taiwan, Japan, Germany and other industrially advanced countries.

Impressive Presses

Sanes Presses Co., Ltd., established in 1980, specializes in the manufacture of mechanical presses and forging machines, both standardized and custom models.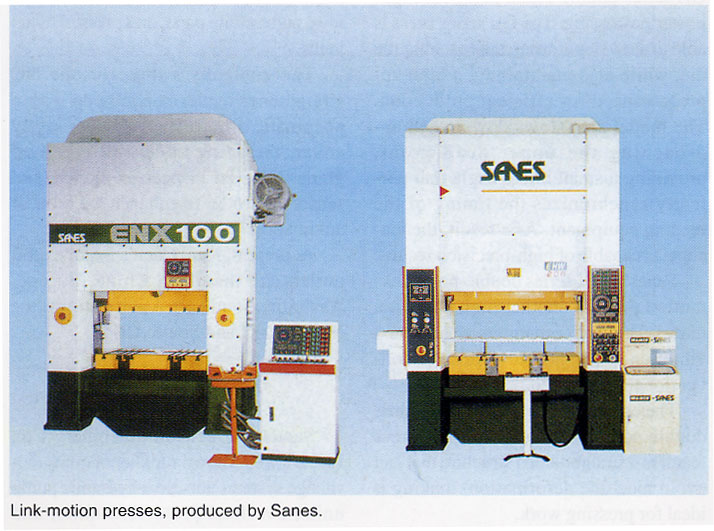 Thanks to its long-term efforts to produce high-quality products, the company has won a good reputation in Taiwan and abroad. "Our customers have a lot of confidence in our products, so we are able to tap industrialized markets such as Japan, the U.S., Canada, and Europe with our own-brand 'SANES' products, " says company president Chang Shih-chi.

Over the years, Sanes has rolled out 10 series of pressing machines, including C-type power presses, straight side double crank power presses, link presses, single-crank link presses, double-crank link presses, brass valve forging presses, and warm/hot die forging presses.

The company produces all of its machines at a 15, 480-square-foot plant in Taichung County, central Taiwan, and it plans to expand capacity to meet future demand.

At present, Sanes exports most of its machines to mainland China, Southeast Asia, the U.S. and Canada. Branded sales account for the bulk of its shipments, except those to the U.S., where original equipment manufacturer (OEM) orders dominate.

The ISO9001-certified company began exporting forging presses to Japan in as early as 1985, making it the first Taiwanese company to successfully tap the Japanese market for this item. In 1997, the company marked another milestone by winning its CE certification, opening the door to European markets.

Chang says that his company is also the first domestic producer of link presses, which it debuted in 1991. The machine overcomes several thorny problems presented in conventional mechanical presses, such as slow engaging speed and high withdrawing speed, while also considerably reducing noise and vibration during operation.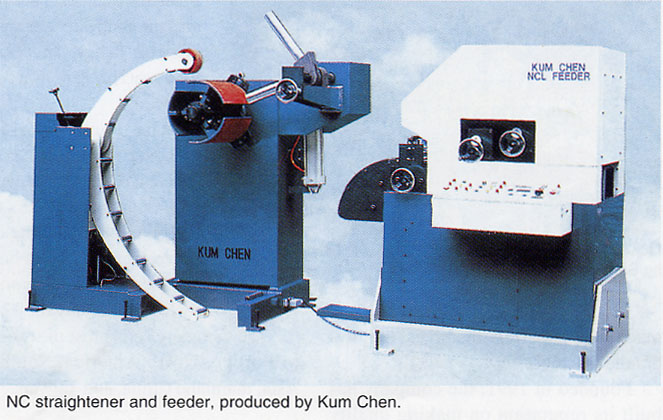 The company has also won many awards for applying advanced forging technologies to its products, including the Taiwan's China Forging Association's Forging Technology Development Award for the development of an advanced link press.

One of Sanes' newest products is the GL series double-crank press for high-power processing. The GL series press is able to slow down when approaching the die, while also maintaining a high approach speed for efficient production. The model also slows down when approaching the upper dead point, providing a small brake angle that perfectly synchronizes the timing of the feeding equipment. As a result, the machine is capable of high-precision results.

Sanes' ENX series double-point link-motion press is another high precision model. The series can minimize noise and vibration to levels below those of conventional high-speed presses.

The company's EHW series H-frame double point progressive/transfer press features a straight-sided structure that can avoid machine deformation, making it ideal for pressing work.

Riveting Performance

Kum Chen Industrial Co., Ltd., established in 1980, is one of Taiwan's leading manufacturers and exporters of automatic equipment for presses and pneumatic/hydraulic riveting machines.

The company's product lines include NC feeders, NC straightener feeders, air feeders, pneumatic/hydraulic riveting machines, uncoilers and levelers, electronic flat uncoilers, high-precision levelers, pneumatic/hydraulic presses, pneumatic booster presses, high-speed precision presses, multifunctional mold detectors, sheet separators, oil lubricator units, and mini conveyers.

In line with the exodus of domestic downstream manufacturers, Kum Chen set up Kum Chen Machinery (Kunshan) Co. in the mainland city of Kunshan, Jiangsu Province, in 1997, to produce the same products as those made in Taiwan.

Company president Chen Ching-an says Kum Chen constantly develops new products to meet the ever-changing demands of customers around the world. With over 20 years of manufacturing experience, the company says it can supply turnkey products to meet various production requirements.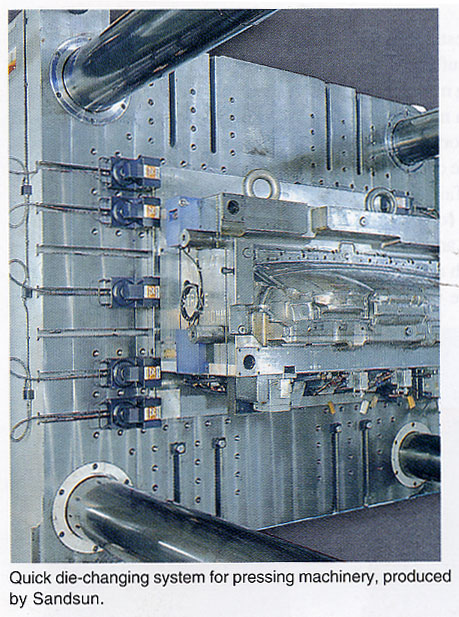 Kum Chen's products are widely used for the manufacture of hardware, electronics, tools, metal sheets, galvanized steel plates, electroplating sheets, toys, automobile parts, and pressed metal items.

The company's three-in-one NC straightener feeder is equipped with a pneumatic arm, release device, safety cover, threading table, roll-type coil guide, material inspection device, and sensor controller to enhance the level of automation.

At present, Kum Chen's major export outlets are mainland China, Europe, Australia, Southeast Asian nations, the Middle East, and South Africa.


Quick-Change Artist

Sandsun Precision Machinery Co., Ltd. Is a well-known supplier of quick die-change systems, air-drive hydraulic pump units, overload protection units, and printed circuit board (PCB) piercing systems for various types of machinery, including die-casting machines, pressing machines, injection machines, and hydraulic machines.

Founded in 1991, the company has built its reputation on making quality products and delivering them punctually. To ensure the highest possible defect-free ratio, the company strictly examines each workpiece at every step of the production process. It also carries out stringent tests for hydraulic pressure and fatigue resistance on each item. The company's defect-free ratio is now only 0.1%.

The company has obtained both ISO 9001 and CE Mark certifications. When introducing the ISO standard system, the company worked with Taiwan's Da Yeh University on a computerized management system to improve delivery times and after-sales services. Now, the company delivers standard products within one week after receiving orders and customized goods in two to three weeks.

From 1998 to 2000, Sandsun cooperated with the government-backed Metal Industries Research & Development Center (MIRDC) to develop a more efficient quick die-change system.

In its first six years of operation, the company increased its business by around 20% to 30% annually. Since then the pace has slowed down to around 10% annually due to a saturated customer base.

The company has developed several patented designs. Among them is a hydraulic pump valve guaranteed to be leakage free for at least one year.

The hydraulic pumps produced by Sandsun are designed to stop pumping when the outlet hydraulic pressure reaches a set point and automatically resume operation when the outlet hydraulic pressure is reduced.

The company's PCB piercing system is another efficient machine. It smoothly pulls out punched PCBs from the punching machine dies, preventing the circuit boards and dies from being worn out by forceful removal.

The company sells most of its output to Europe, North America, Southeast Asia, mainland China, and Taiwan.


Contact information on companies covered by the article:

1. Kum Chen Industry Co.

Address: No. 26, Alley 26, Lane 82, Tayung St., Sanchung, Taipei Hsien, Taiwan.

Tel: 886-2-2989-4410

Fax: 886-2-2984-1849

E-mail: service@kumchen.com.tw



2. Sanes Presses Co.

Address: No. 23-1, Yichang E. Rd., Taiping, Taichung, Taiwan

Tel: 886-4-2270-9955

Fax: 886-4-2270-9933

E-mail: sanes@ms32.hinet.net

Website: www.sanes-press.com



3. Sandsun Precision Machinery Co.

Address: No. 7, Lane 57, Chungshan Rd., Sec. 3, Dahtsuen, Changhwa Hsien, Taiwan.

Tel: 886-4-853-6688

Fax: 886-4-853-6699

E-mail: sandsun@ms26.hinet.net

4. Hsin Lien Sheng Machinery Co.

Address: No. 33, 36th Rd., Taichung Industrial Park, Taichung, Taiwan.

Tel: 886-4-2350-4050

Fax: 886-4-2350-4118

E-mail: hlsmcltd@tcts1.seed.net.tw

Website: www.techprosperous.com.tw